RECUWASTE- Waste Heat Recovery and Storage Unit
MSI Grupo
The CIRMET Project aims to design, develop and validate an innovative solution, to provide energy and resource flexibility to Energy Intensive Industries (EIIs)
MSI participates in the CIRMET initiative, led by the Research and Technological Development Centre TECNALIA and funded by the European Union's Horizon 2020 research and innovation programme, whose objective is to design, develop and validate an innovative and efficient solution to provide energy and resource flexibility in highly energy intensive processes.
For this purpose, the CIRMET project is divided into 4 lines of action:
1. EFFIMELT line, focused on resource efficiency and based on DIGIMET technology, a new concept of flexible and modular process unit for industrial waste treatment;
2. RECUWASTE line aimed at heat recovery unit, for flue gas heat recovery and transformation into compressed air to re-use in the same plant, having also the possibility of storing the excess energy;
3. Line AFF40 (Analytic For Factory 4.0), to improve process plant competitiveness, to increase energy and resource efficiency by controlling and optimizing process units; and
4. GHG emission reduction thanks to the use of biochar as substitution of fossil origin cokes, which will be also tested in EFFIMELT line.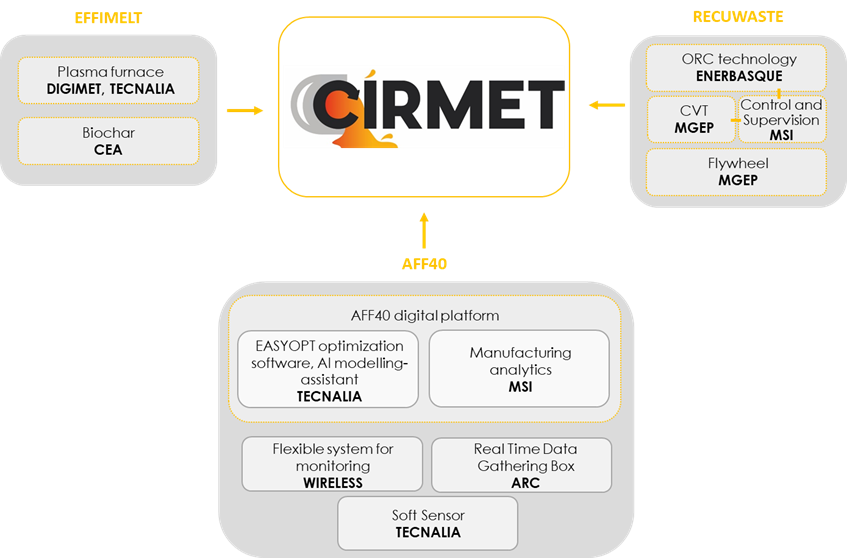 MSI participates in the development of RECUWASTE solution.
Current applications of the ORC for heat recovery and its transformation into compressed air are still at an early stage. Moreover, in such applications continuous transmission systems are implemented. This allows to feed an air compressor with a continuous operation.
The RECUWASTE solution in the CIRMET project brings these concepts a step further. 
This particular solution is described for the steel industry, although it is meant for EIIs in general with similar requirements.